FM Transmitter for Church, APROTII 0.5W/0.1W FM Broadcast Transmitter 76~108MHz with Microphone and Antenna, Broadcast Long Range 1000ft, for Church Parking Lot Service, Drive-in Movie/Concert
FM Transmitter for Church, APROTII 0.5W/0.1W FM Broadcast Transmitter 76~108MHz with Microphone and Antenna
★【Legal FM Transmitter for Church】 Just set the channel you want in the middle of 76 ~ 108MHz, you can creat your own radio to broadcast sound you want freely. FCC Certified: FCC ID: 2ASVO05B-73.( you can check this fcc id on FCC gov.)

★【Plug & Playability MP3 Broadcast Radio Station】Unpack and effortlessly setup within 3 minutes, even if you are just 8 years old.

★ 【Dual Mode Long Range FM Transmitter 】This FM broadcast transmitter broadcasts wirelessly in both high and low power output modes (0.5 Watt or 0.1 Watt). with long ranges of up to 300m(1000ft).

★【FM Transmitter with Microphone】Sent with a wired lavalier microphone as a gift, you can broadcast directly. Also if you want, you can buy extra wireless mic to work with it.

★【Popular Uses】Broadcast from any audio device to any FM Receiver--from MP3/iPod/Cell Phone, Satellite Audio or Music, Computer Audio, Blu-Ray. It's a ideal FM Transmitter for church, outdoor church services/worship services, drive-in movie(outdoor theaters), meeting, whole house FM transmitter,for Christmas Light Displays--animated lighting, light-o-rama, WOW Lights, D-Light.
FM transmitters are often used to transmit audio from source devices like MP3 players, satellite radio receivers, etc. to car stereos, home theaters, or portable radios. Currently people are purchasing them to broadcast church services to their parking lot, hold mini drive in movies with their neighbors and hosting concerts in parking lots.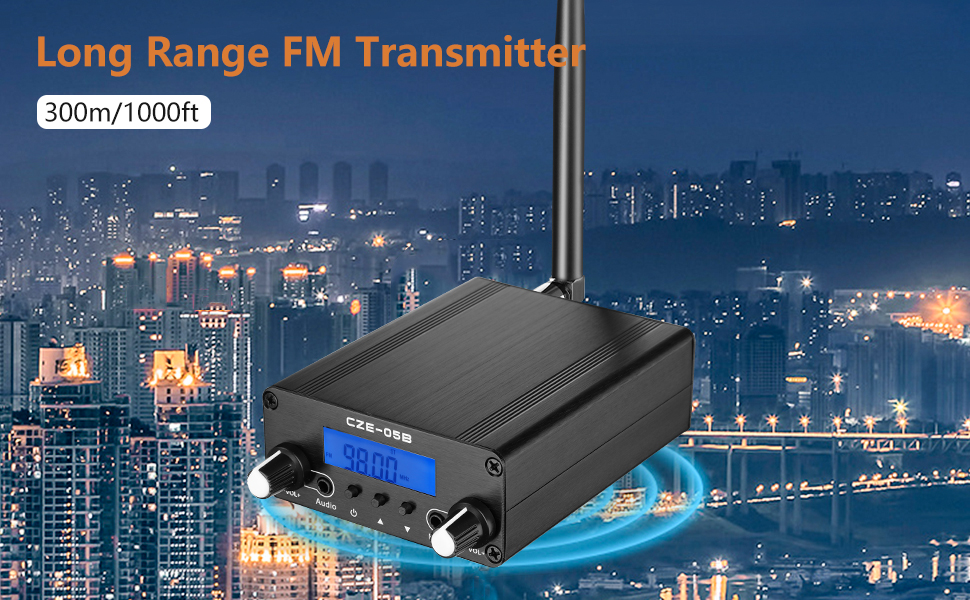 Restore Perfect Stereo Sound Quality

it could adjust microphone and volume independently.

No Need to Reset After Power -off

The parameters used by the machine can be automatically read after shutdown.

Compact Size

Very mini size, no need to worry about take up the place of your table.
Parameters:
Power Supply Voltage: DC 12V
Operating Current: Less than 0.5A
Frequency Range: 76 - 108Mhz
Clutter and Harmonic: Less than 60dB
Audio Frequency Response: 50Hz-15000Hz
Stereo Separation: ≥35dB
Distortion: ≤2%
Input Level: -15dBV (adjustable)
Audio Frequency Deviation: ±75KHz
RF Output Impedance: 50 Ohm
RF Output Power: 500mW (10MHz in the vicinity of the center frequency)
Package Included:
1 x CZE-05B FM Transmitter
1 x Antenna
1 x Lavalier Microphone
1 x Line-in Cable
1 x Power Adapter
1 x Power Adapter Cable